Circular Catalysts: Sustainability, design, craft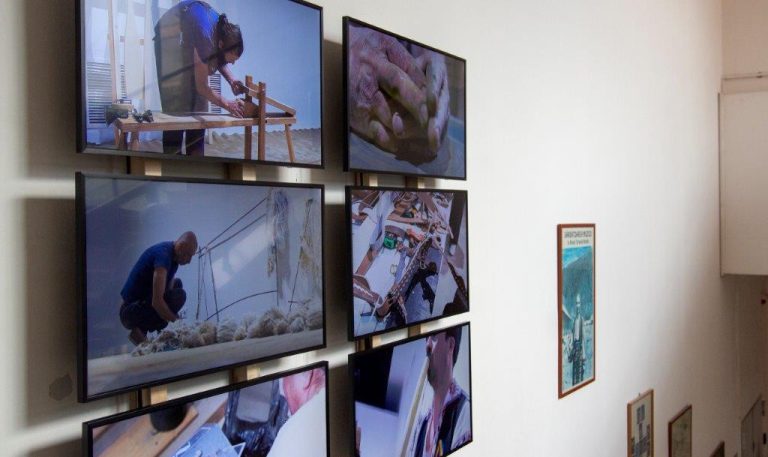 Starting from the idea that the pragmatic relationship between people and natural resources in the Romanian countryside can be a fertile ground for local resilience and sustainable development, five designers and artists from the UK were invited to collaborate with organizations that are active in rural Romania to explore the intersections between rural and urban, and the role and migration of local materials and crafts in social, economic and environmental sustainability.
Circular Catalysts aims to provide such good practice examples, both local and UK, and to develop a European network of people and initiatives that share a set of values aligned with the principles of the circular economy. The program will begin with a series of creative residencies in April – May and will continue throughout 2023 with complementary activities aimed at both professionals and the general public.
Viewed from global-local and urban-rural perspectives, the program's themes are put in relation to circular design and climate change, by exploring:
traditional knowledge systems and community practices for local sustainable development
migration of local materials and crafts in social, economic and environmental sustainability
strengthening rural-urban connections in order to address local and global challenges in an integrated manner
the power of interdisciplinary design and dialogue in support of climate action
the potential of circular design in terms of the well-being of communities
The second edition of Circular Open Studios, a project connected to the Cultural Catalysts program, covered some of these topics through expert interventions. Additional information is available here.
📅 The launch of the project included an open call to the arts and crafts sector in the UK. Five participants were selected to be hosted by local organizations working in rural Romania. The association and curation process was collaborative and focused on building constructive relationships and knowledge transfer. Residencies take place in March and April 2023.
📅 The results of the Circular Catalysts residencies will be integrated into a documentary exhibition based on the knowledge and themes generated, which will present photographs, texts, and objects representative of the power of interdisciplinary design and dialogue. The exhibition will be launched during the Romanian Design Week 2023 (May, 12–28) and will be on tour in Timișoara (European Capital of Culture 2023) and the Great Britain (in partnership with the Romanian Cultural Institute Londra).
📅 During the Romanian Design Week 2023 exhibition, community engagement activities (workshops, podcasts, discussions) will take place with the aim of provoking conversations around traditional knowledge systems and community practices with a role in creating and sustainable development.
📅 In order to cement and grow the relationships developed around the residencies, as well as to offer Romanian professionals a better understanding of the British sector, a Romanian delegation will be present in London, during London Design Festival.
As a local subtopic, residencies take into consideration
ancestral and indigenous knowledge and circular processes
which could represent an advantage in rural development.
The residencies will create the enabling environment in which a range of relevant UK traditional craft actors will engage with local organizations and artisans. The aim of the action is to develop joint projects between Romania and Great Britain that explore the ways in which traditional crafts can be integrated into innovative practices for a sustainable future.
The periods of the residencies organized in 2023, in the context of Circular Catalysts programme, are:
✔️ Gareth Neal – Kraftmade (February 28 – March 3)
✔️ Anoushka Cole – Pro Patrimonio Foundation (March 27 – April 3)
✔️Annemarie O'Sullivan – Kraftmade (April 9-15)
✔️ Lola Lely – PATZAIKIN & Creative Traditions (April 22-26)
✔️ Carol Carey – Remarkable Romania (April 24-29)
Circular Catalysts is part of Circular Cultures, a multidisciplinary regional programme of the British Council which aims to promote dialogue around circular design, exploring topics such as climate change, material waste, and creative cultures. In Romania, Circular Catalysts explores the interconnection and isolation of rural, urban, and social systems in a local and global context. The program activates different types of actors, essential for the development of placemaking processes, in a sustainable manner.